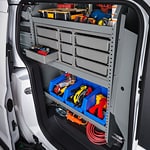 The 2020 Ford Transit is a cargo van that has the ability to seat up to six people. It is great on gas because it can get a maximum of 29 MPG. Driving will be a lot easier and fun because this vehicle has several convenience features. The vehicle has enhanced active park assist.
You can activate this feature when you are near a parking spot. The feature will scan the parking lot and locate the closest spot. The feature can also help you back up into a parking spot and parallel park.
Side-wind stabilization is another one of the features. It will be easier for you to drive when the winds are high. If the wind is strong, then the system will apply the brakes in order to help you stay in your lane. You can test the convenience features when you drive the vehicle. Go to the dealership today.